The technical challenge: Could we build an integrated software solution that automates the creation of complex graphics from packaged accounting software.
Creative solution leads to more inclusive financial decision making
Hugh Lovesy approached CIBIS International with a technical challenge: could they build an integrated software solution that automated the creation of complex graphics from accounting package data by codifying the creative process that was used to produce them manually? As a further challenge, the solution had to be exceptionally easy for non-technical users and affordable for small organisations!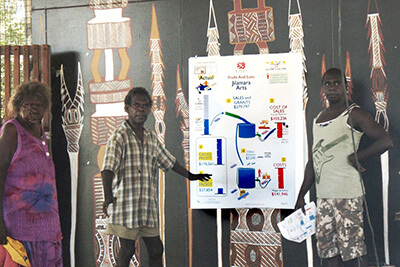 "Our motto here at Little Fish is 'information with integrity.' I decided to approach CIBIS because of their reputation for being ethical and effective," said Mr Lovesy.
Little Fish is a Central Australian business that specialises in financial management reporting and visualisation for business. Their products include The Money Story®, which produces financial reports with customised graphical representations. "Our target market needs a lot of flexibility. Indigenous businesses work differently from one place to the next. They want customised products, but they also need to keep costs low."
"CIBIS gave us the ability to produce visual financial management tools that each client group could adapt to their own preferences. We have control of the templates that sit in the system and it drives different graphics, colours, and shapes.
"CIBIS did the right thing by us. Their system processes accounting data, automatically picking the correct story templates, bespoke graphics, colours and size of images and it's all driven by the financial data provided thereby enabling our clients understand complex financial concepts.
"Empowering more Aboriginal people to have a say in financial management is a great thing. Without tools like this, financial governance and decision making can fall to individual board members and managers, and exclude people with lower levels of financial understanding and literacy."
Using The Money Story® software, information can be presented to all board members in an informative, individualised and understandable way.
CIBIS International General Manager, Tony Heitmeyer, says his team took Mr Lovesy's challenge seriously. "Little Fish had an original and honourable idea. We're proud to have matched that with an innovative and affordable software solution."